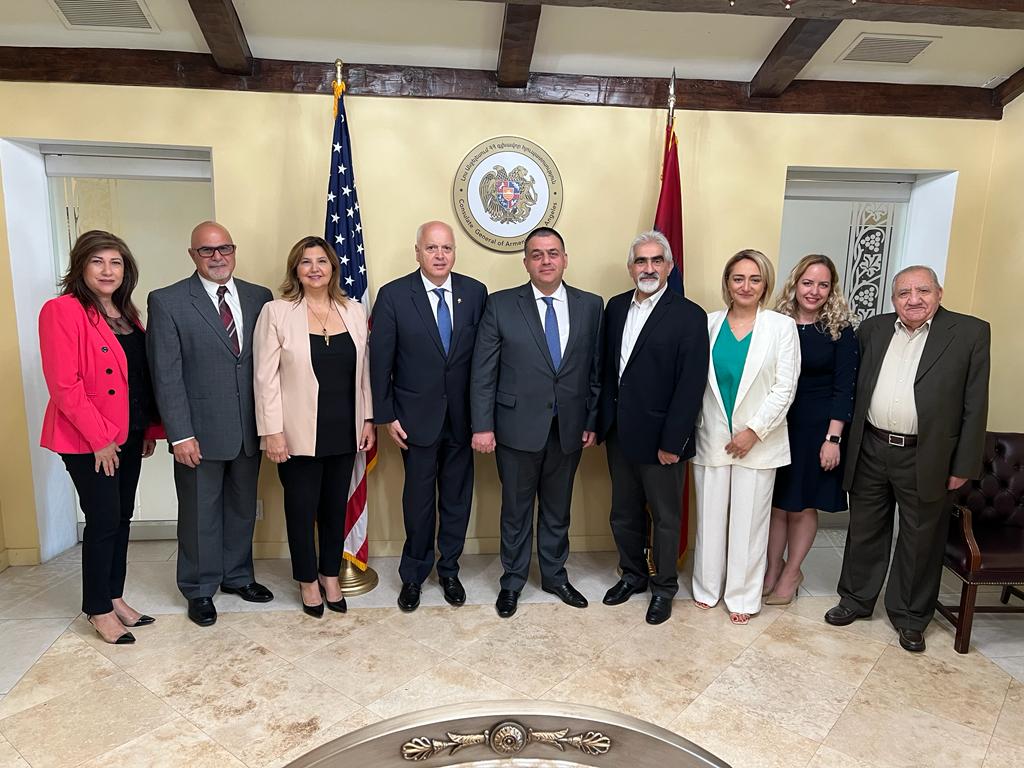 Meeting with Newly Appointed Consul General
Հանդիպում Հայաստանի Հանրապետութեան Նորանշանակ Գլխաւոր Հիւպատոսի հետ
Չորեքշաբթի, 6 Սեպտեմբեր 2023ին ՀՅԴ Կեդրոնական Կոմիտէի անդամներ եւ քոյր կազմակերպութիւններու ներկայացուցիչներ հանդիպում ունեցան Լոս Անճըլսի մէջ Հայաստանի Հանրապետութեան Գլխաւոր Հիւպատոս՝ Տիար Դոկտ․ Կարեն Իսրայէլեանի հետ։ Հայ Օգնութեան Միութեան ԱՄՆ Արեւմտեան Շրջանի Շրջանային Վարչութեան Ատենապետուհի Վիքի Մարաշլեանը նորանշանակ Հիւպատոսին ներկայացուց ՀՕՄի գործունէութիւնը եւ ծրագիրները։ Հանդիպման ընթացքին ներկայացուեցաւ գաղութի մարտահրաւէրնէրը, ինչպէս նաեւ Հայրենիքի մէջ տեղի ունեցող ներկայ մտահոգիչ իրավիճակը:
Meeting with Newly Appointed Consul General
On Wednesday, September 6, 2023, ARF Central Committee members and representatives of sister organizations held a meeting with newly appointed Consul General Dr. Karen Israyelyan.
ARS of Western USA, Regional Executive Chairperson Vicky Marashlian discussed the programs and work of the ARS. During the meeting, challenges faced by the local community were presented, as well as discussions held regarding the current alarming situation in the Homeland.